Commercial Gate
Back To Our Services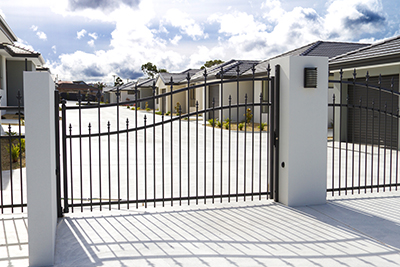 You have come across your licensed, bounded and insured commercial gate Canyon Country contractor! Our staff is specialized in installing, repairing and maintaining the functionality of any gate mechanism. Do not hesitate to consult us if you have decided to improve safety and order within the place where you work. Electric gates paired with an intercom system are the best way to secure the driveways or parking places and to control who goes in and out. For commercial gate Canyon Country expert services, you have come to the right place. It is not only about setting the heavy parts in place, but also about knowing the best spots for placing sensors and intercom components, and also about attaching the gates to sturdy fencing, so that no gap is left in the system.
Calling for commercial gate service is of great help
because you will be dealing with professionals who know the ways to achieve the desired level of performance. You need functionality, good speed of an opening and closing gate, reliable sensors, efficient control options, resistant materials and, of course, an integrating design. You may give us a call at any time and discuss these matters with us. We take our time to explain each feature to every client, for making an informed decision. Besides, our commercial gate service will save you a lot of hassle. If it weren't for the automatic gates, companies like yours would have to hire a man to guard incoming traffic. This would mean having to pay an extra salary. It is time to think in terms of efficiency! Additionally, by hiring a local contractor, you are sure to get quick assistance whenever it is required.
Commercial places and other sorts of businesses often have incorporated garages. If you need such but do not make the right choice when it comes to garage doors, then you could be facing a waste of precious time, slowed down activity and stress on the side of the employees/clients. The parking garage gates are an important element. Consult us first and we will recommend what works best, while keeping low costs in mind. The overhead gates represent the most popular type because they work so smoothly and don't take up much room. Within this type, roll-up gates are easy to install, affordable and function very nicely by simply rolling up as they are made of segments. In the end, no matter the type you chose, we commit to perform maintenance when it is needed. Someone will come regularly to grease up the parts and to inspect each of these. Moreover, our staff keeps the clients educated about the mater, which they appreciate a lot.
Last but not least, our repair works are always efficient and we will not push you to do more than the situation asks for. Customers don't like when they find technicians who tell them right on their first phone conversation that, for example, the opener is dead and needs replacement. Often, this is not true, but it's easier for the company. We choose not to do this – we first try to repair it if it's broken. Our commercial gate Canyon Country is reliable not only because we pick top quality materials, but also because we are being realistic about it.