Intercom System
Back To Our Services
Combining a good quality gate with intercom installation is the golden way to ensure security. We can help you build up a strong fence between your private world and the dangers lying beneath that point. "Gate Repair Canyon Country" might be a leading contractor in gate solutions and gate repair but also takes pride of having specialized teams for your intercom needs. Installing an Intercom System at home or work is the best way to reinforce security and make your life easier.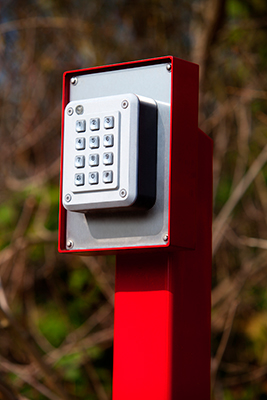 You don't have to walk the driveway to let visitors in anymore. Any gate intercom system will allow you to have full communication with the people standing at your door. Our company works with the best manufacturers and we can introduce you to the latest products by Linear, Aiphone and Doorking. Whether you are interested in installing intercoms in a residence or commercial establishment, you can be sure of our knowledge.
Experts in all gate intercom systems
We can provide you with the right model and you can rest assured about our capacity to install and program intercom systems. Depending on your requirements we will help you select the most convenient system for your property. You can have visual and oral contact and two ways communication. You can open the pedestrian door or the entire roll up gate for your visitors. You will be given codes and you can also have the chance to have temporary ones for visitors and the milkman.
The most important thing is that you can have the full technical support of Gate Repair Canyon Country. We are experts in phone enter systems and have the proper training, knowhow and expertise to install, program and repair them. These are not simple systems and there are basic differences among them. Though, our technicians have experience to handle any issue related to your Intercom System. Regardless of the type of your gate and the model of your intercom, you can trust our knowledge for intercom repair. Just give us a call today and we can make any problem disappear. Contact us now!