How to Select the Right Gate
03/19/2014
Back To Blog
When you decide on residential gate installation, planning ahead and thinking of the requirements of your own property are the most important steps. Gates are not shirts, which can be returned if they don't fit well. They are expensive investments, sometimes custom made and definitely responsible for your daily convenience and overall home security. It would be a pity to get a steel gate that is a little too big for your own space or to have regrets about the material. Today, there are certainly many options but that doesn't mean that they are all good and appropriate for your residence. It is always the little details, which will make the greatest differences and, therefore, you should focus on your needs down to the last detail.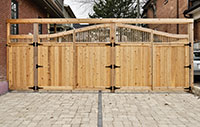 Important factors to consider before gate installation
The size plays a great role in your choice because it would determine the price and your convenience. It's vital to consider the size of your vehicle in comparison with the space in the property. You wouldn't want to install wrought iron gates, which will just fit your current car. What will happen if you replace it with a bigger one next year! Leaving space for your vehicle is important in order to avoid bumping the car on the sides, too.
The next step will be choosing the type of gate and this would depend entirely on the space of your property. Swing gates need plenty of space in order to open inwards or outwards and in a different case, you ought to prefer solid sliding gates, which will open across the fence or wall. Based on that choice, you will be called to select the right opener. Openers differ in accordance to the type of gate but they all have similar characteristics.
Last but not least is the choice of the proper material. This decision should be based on your financial capacities and weather conditions. If you can afford wood panels, it would be an excellent choice but you need to know beforehand that they will cost you more now and in the future with frequent maintenance service. If you rather get iron gates, consider getting galvanized panels to avoid erosion problems later.